Posted by Shades Of Ebony Beauty on 28th Aug 2020
Welcome to Beauty Empowered August Edition! We are so happy to introduce the beautiful Olive Incoom-Mends, founder and creative director at O.Mends Beauty. Based in the hunter region of New South Wales, O.Mends Beauty specialises in a range of affordable silk satin unisex hair accessories and products to help you care for your mane. Olive is also a qualified makeup artist, mother of two and a Wife. Read more about her below.
MEET OLIVE
Tell us a little bit about yourself?
My name is Olive, Olive Incoom-Mends. I am a wife, a mother, a sister, daughter, a believer in Christ and a lover of God. I was born in Freetown, Sierra Leone and relocated to Ghana at the beautiful age of nine. Both Sierra Leone and Ghana are in West Africa. I migrated to Australia at age seventeen and currently live in Newcastle the Hunter region of New South Wales.
Talk to us about O. Mends Beauty?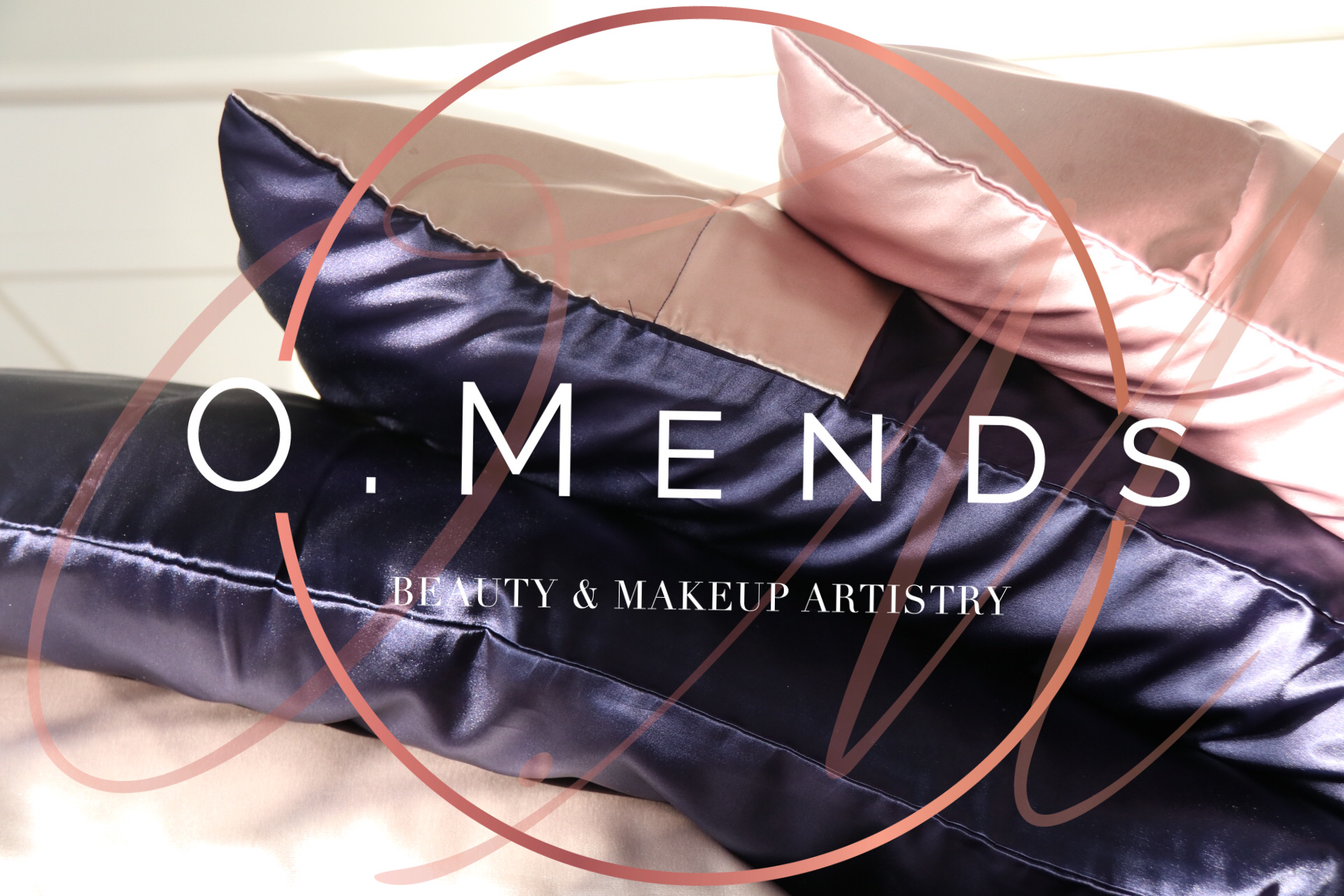 O.Mends Beauty is an inclusive brand which started as a passion and a desire to see improvement in my skin and hair care. As a kid growing up, I had lots of natural thick, long hair but overtime as a teenager, I believe I caused havoc to my hair due to poor hair care decisions. After having my son years ago, I tried caring for my hair again but noticed it was almost always impossible. I found my hair to often be dry regardless of the amount of oil or product I would use the day before. My hair growth was also never been consistent, I also suffered from really bad acne and scarring caused by me picking on my skin, this really bothered both myself and my husband and we decided to find a solution for the problem/s. This all happened last year when I was pregnant with my daughter. After much discussions with my husband, we discovered the benefits of quality silk /satin products and so we decided to invest in some. One of the problems we faced however was that most of these products were quite pricey and the affordable ones fell short of our expectations. I am obsessed with quality, so this really stressed me out because I was about to have a girl and didn't want her hair to suffer the way mine had.
When our daughter was born, I noticed that even as a young infant, I would oil her hair during the day and before going to bed only to find the very next morning that all of that oil would be left on her cotton sheet or in her beanie and her scalp would still be dry. One day I had an Aha! Moment, realizing that hubby tailors very well and that I can afford quality silk/satin fabric, we decided to go to our local fabric shop where we sourced some quality silk/satin materials and got him to make bub and I our very first hair bonnet, plus a silk pillowcase for me. I was satisfied not just with the feel and quality but how well these products maintained the oil and moisture in both our hair, I'm happy to report that I have experienced zero hair fallout since then.
It then clicked for me that if I went through all that just to get a good, quality but affordable silk and satin sleep products which actually work, imagine how many more women and mothers were out there looking for same not only for themselves but for their little girls also. Men in 2020 are very particular about their health, looks and their skin. So it became clear to me that our O. Mends Beauty pillowcase, satin scarfs and durags would also be perfect for guys to help them care for their health and beauty needs. That's how our products were birthed, hoping to reach one home at a time with quality and affordability.
What inspired you to launch the brand?
My daughter! My daughter inspired the birth of our beauty brand. Besides God, she is the breath of O.Mends Beauty. I honestly do not think I could have taken the steps that I took to find solutions to having healthy hair as seriously had I not found out that I was having her. Every time I look at our gorgeous blessing, I am inspired. Inspired to do more, inspired to be a better version of myself and inspired to be creative. In fact, that creativity has led us to come up with a kid's hair wash and pamper line coming out next month. We've also been inspired to come up with different Satin products that not only protects our little girl's hair strands but her hairline also, an example of this is our Signature O.Mends Beauty kid's hairband. We also have kid's scrunchies to protect the hair when in a bun or an updo. Funny story, our O.Mends Beauty adult hair scrunchies was birthed from the vision of our kids/baby scrunchies.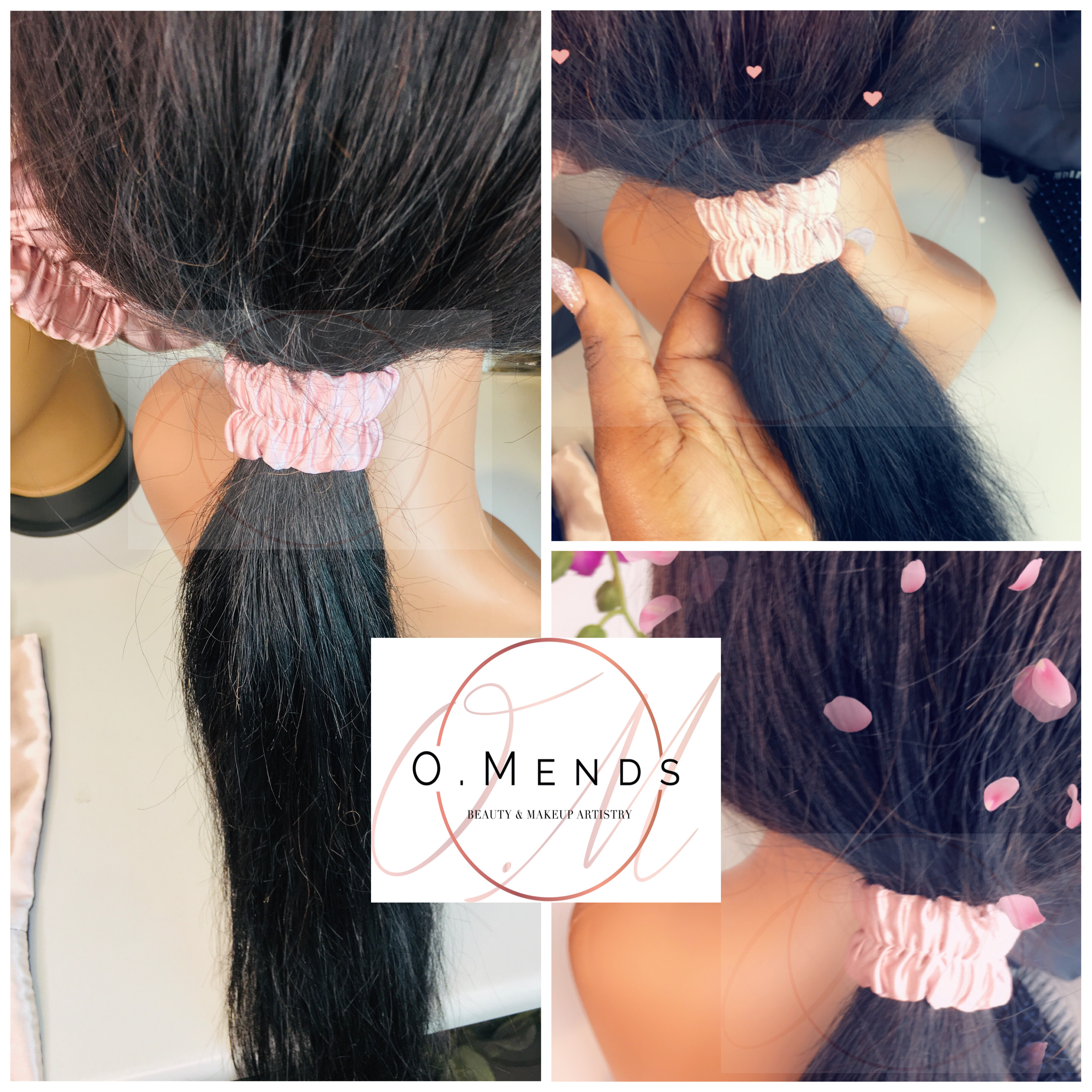 What do you enjoy most about running your business?
Umm! I would say the depth of my hidden creativity and assertiveness which I never knew existed. I also enjoy allowing my passion and love for O.Mends Beauty to be the fuel that drives and carries me on. Another thing I enjoy about running O.Mends Beauty is the ability to be able to meet and connect with so many individuals and businesses both online and in person. These connections are paving a way of growth for me as an individual and as a woman of color in business. Running this business is also giving me an opportunity to be able to give back to society and for that I am very grateful.
Talk to us about your shop launch?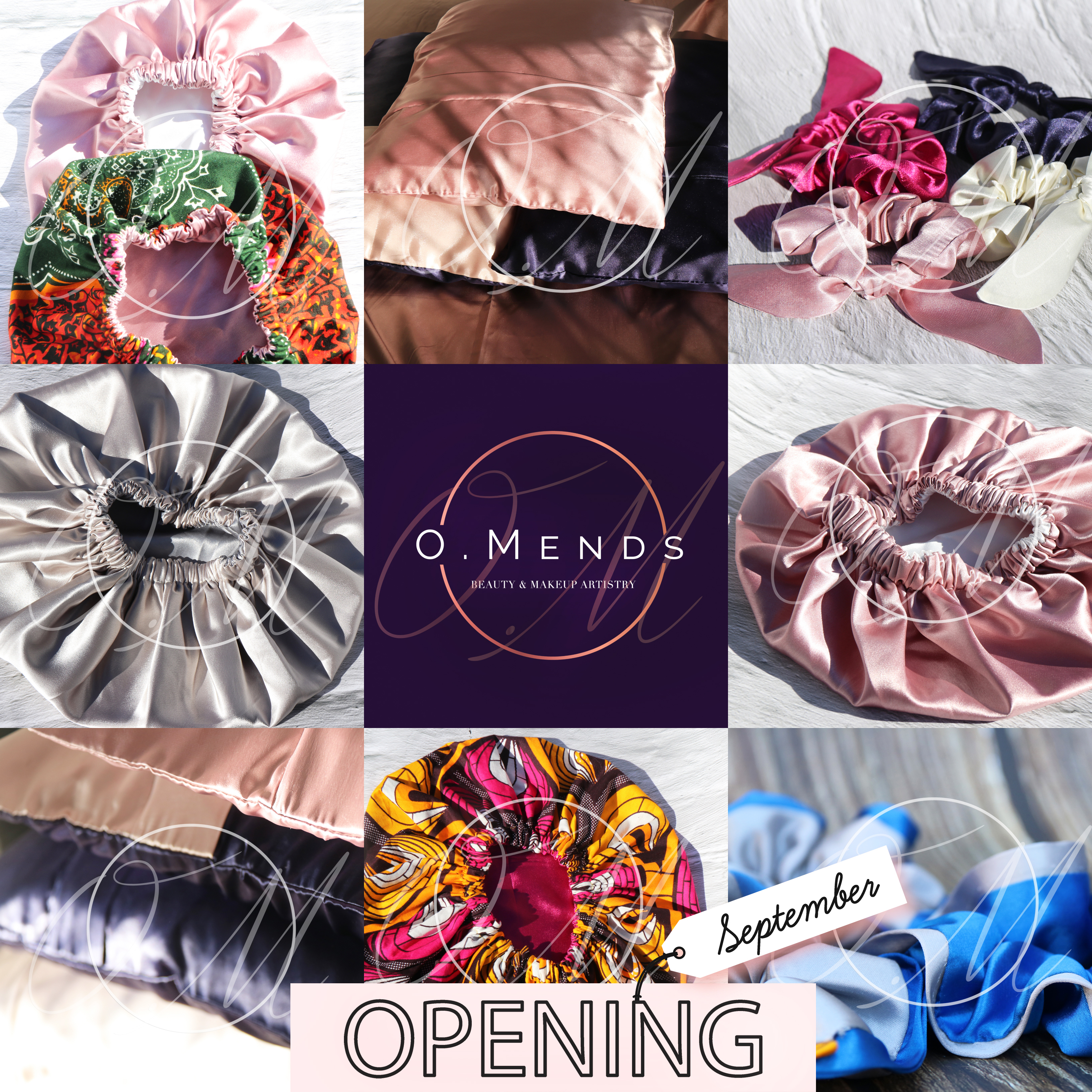 Our shop launch is very special to us because it's THE day our e-commerce website will officially be opened to the public. I am excited for everyone to see all the work that is currently going into building it and more importantly see the home that houses our products digitally. During the shop launch in September, everyone will be able to shop all of our O.Mends Beauty products range and they will also be walking away with giveaways/freebies. Pre-order are also currently open to everybody which gives customers products at a discounted price plus freebies.
Which type of woman would benefit from your products?
Our brand exudes boldness, simplicity, class and confidence so it would suite a woman who represents all of this and more. Our products are for the everyday woman be it a youth, young adult or an adult, a mum, an auntie, a sister, a godmother, a grandmother, a friend, I mean the list goes on. As long as you are a woman with the desire and an eye for quality, then our products are for you!
You are a wife and a mom of two, how do you find your work life balance?
OMG! To be brutally honest, this area is and has particularly been challenging and I am still learning and growing. I am still finding the balance between work time and family time and it is hard but I am getting there and will get there. I have days where I am either on the laptop or on my phone after 6pm still working, responding to and sending emails, checking on vendors, working towards deadlines etc., at the time when my husband and kids also need my attention. But hey, I am learning to put the devices away when they are home, it is not a perfect area yet because I sometimes find myself saying to hubby, honey please let me respond to this one email or attend to this one message and I'll put my phone away. It's a struggle but it will get better. I also find that other times I get slowed down a bit on work because my daughter may get clingy and need me more that day or week so I give her more of my time and I am not online as much and running a business online needs your presence virtually almost every time. But I will get there!
What are some of your hobbies outside of your business?
I love, love, love, loveee to worship! I may not have the voice of Brooke and Taya from Hillsong, but I believe that I am a worshipper. I can worship for hours and just get lost in God's presence and be totally unaware of place or time. I can worship anywhere actually. I also love going for neighborhood walks, it is refreshing. I love and enjoy movie nights with my husband and son but if they are not around, then I will enjoy a chick- flick or rom-com on my own. I enjoy spending time with my daughter and watching her little personality develop, it is amazing and the cutest thing EVER. I am also that African girl who enjoys going to the beach during summer, not to swim but to chill out on sand and just maybe dip her feet in water.
As a qualified makeup artist, what pro tips can you give us?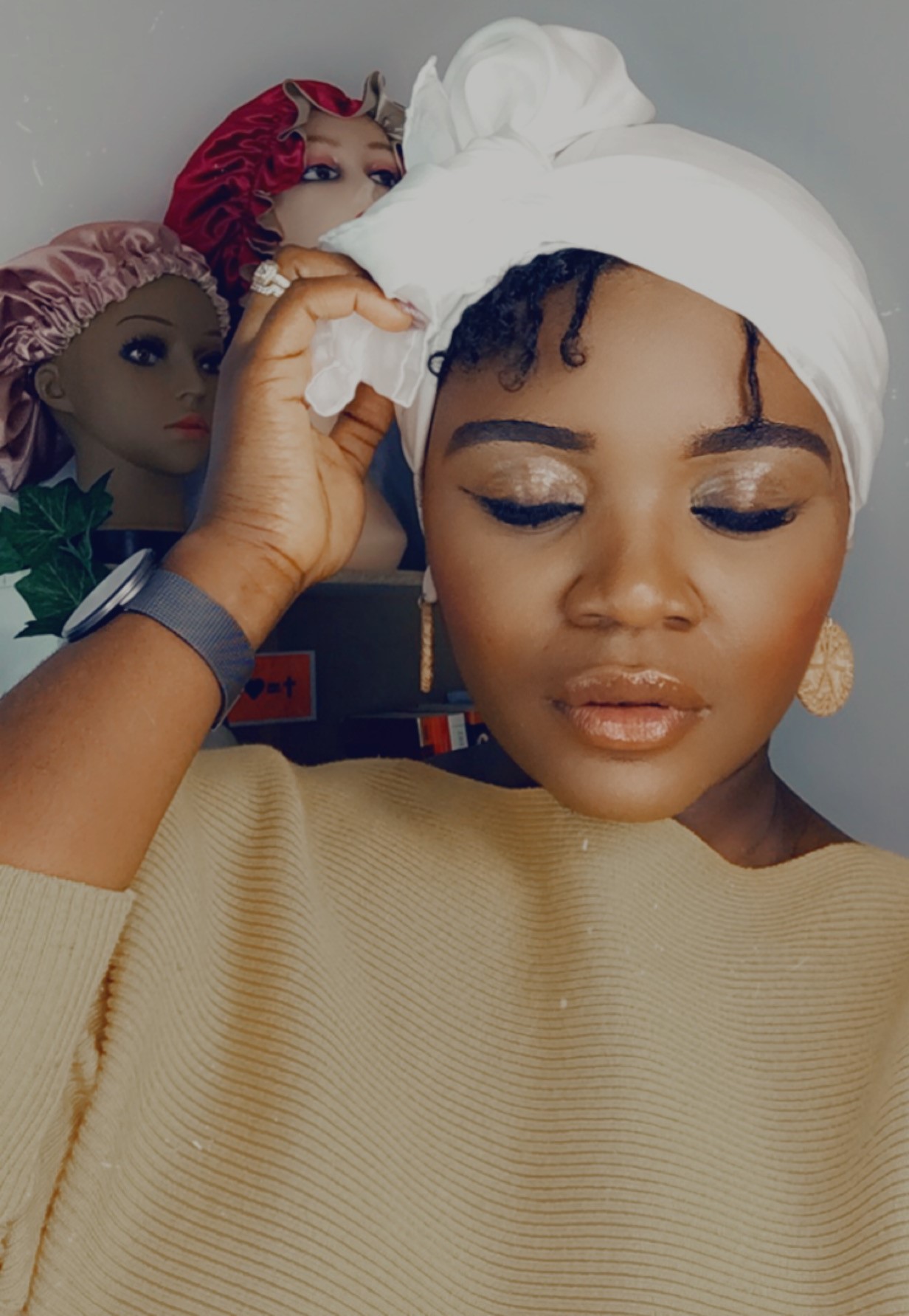 When it comes to makeup application or looks, I say Practice. Practice, Practice and Practice some more. Experiment different looks and practice the ones that better suit you or the ones you love. It's the only way your makeup skills will sharpen and that also applies to all you do in life. The more you practice applying makeup or anything in life, the better you will become at it.
Take care of your skin it's the largest organ on your body and acts as a barrier against infection. Our skin cells change all the time every day and every minute which makes taking care of your skin all the more important. It is not something you should do every now and then but rather something you should do on a daily basis.
Have a good skincare routine that involves cleansing, toning and moisturizing. How your skin will look five to ten years from now will totally depend on how well you care for it now. If you are not looking forward to wrinkles and fine lines sooner, then Invest in good skincare products for your skin type (oily, dry, sensitive or combination) and don't use anything harsh or aggressive on it.
As a bonus, DO NOT SLEEP ON COTTON PILLOWCASES, they are bad for you. Take a look at your cotton pillowcase, have you noticed how much of your hair/face products are soaked on there? Well, these pillow cases usually absorb oils from your hair and skin, in turn leaving your skin and hair dry, brittle and prone to breakage and damage.
What does beauty mean to you?
Beauty to me is confidence, it is internal, in your mindset and in the nature and pattern of your thought process. It's in how we treat others and how well we love and treat ourselves. Beauty to me is taking the time needed to know ME, who I am and what I stand for. It's in being comfortable in my own skin and being ok with my flaws. It's always striving to be a better version of myself. Beauty to me is a very, very powerful tool.
Name three beauty products you can't live without?
I have a few so three is really streamlining ha-ha. Ok here we go;
The Sephora collection face mask. Honestly, this for me is always like giving my face the hydration it needs. It's like drinking water in a dessert but through your face. They really hydrate my skin and I love to apply them as part of my pamper or self-care routine because boy, this face has been through a lot ha-ha. I also apply it when I am ready for some serious makeup application and need a smooth, flawless base.
My Ole Henriksen Banana Bright eye cream. I love it because it's rich in vitamin C and reduces the look of dark circles around the eye. I also love using it before concealing my under eye. It makes a lot of difference.
Last but not the least will be our O.Mends Beauty Silk Satin Pillowcase. After spending all of that money on skincare products and spending all of that time applying products, I really want to allow the products do their job. So, I often ditch the cotton pillowcase because all it's going to do is strip away and soak in everything I have just applied to my hair and face. My favorite O. Mends Beauty Satin pillowcase however will allow products to just glide through, allowing them do their job.
What's next for you?
Constant learning, growing and development. Also, besides my Silk Satin products, I also have a hair care line I have been working on coming out soon and will be ready to shop and be included in our September shop launch. This line again was fully inspired by my daughter and my obsession in making sure that she experience's a healthy hair journey, so keep your eyes out a nd watch this space. More exciting things happening and coming up, ha-ha
Keep up with olive
Instagram: @omendsbeauty & @mrs_mends
Facebook: @omendsbeauty
Twitter: @omendsbeauty
Website: www.omendsbeauty.com.au
Email: info@omendsbeauty.com.au